I have helped quite a few non-residents to buy property here in Ottawa, so I thought I would create a How to Buy Property in Ottawa for Non-Resident Buyers and most of the answers to the questions that come up repeatedly with my foreign buyers: Example: Can foreigners buy property in Canada? Non resident buying property in Canada.
NON-RESIDENTS QUESTIONS REGARDING PURCHASE OF PROPERTY
---
Can I buy a property in Canada? or Can foreigners buy property in Canada?
People of the world are welcome to purchase property here in Canada. Canada does not put many restrictions on the amount or kind of real estate one can buy. In Ontario areas like the Greater Golden Horseshoe [an area that stretches from the Niagara Region to Peterborough ] there is a 15% Non-Resident tax that must be paid by non citizens and non permanent residents that includes corporations and trust. The good news is that OTTAWA does NOT have such restriction as of yet and you will NOT be charged 15% at all.
Below is a map that shows the area that has the 15% tax for non residents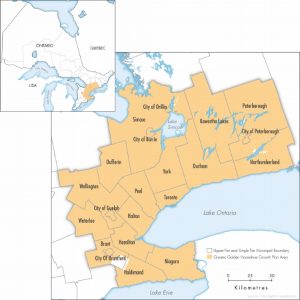 Will I be able to immigrate to Canada if I purchase a property?
Unfortunately, owning a house here in Canada does not grant you an immigration status. One will still have to qualify in the usual ways. Creating ties with a country by purchasing a property there might be a logical step and for more information on immigration please visit the Government of Canada Immigration website.
My spouse is a Canadian resident but I'm not. Are there any rules for us?
The rules of purchase as a non resident does not apply in this case since your spouse is a Canadian resident/citizen. Note that if your spouse does not live in Canada for more than half the year then s/he will be considered as non-residents and the tax implications and higher down payment amounts will apply to your case. Again, if you are purchasing in Ottawa then there is no 15% tax, which makes Ottawa an ideal place for many in Ontario.
MORTGAGES FOR NON-RESIDENTS
---
Can I get a mortgage as a non-resident in Canada?
Yes, you can and some banks are more strict than others. There are some requirements though, like a minimum down payment of 35-50% (salaried people have less down payment requirements than self employed usually) in cash and other required documents. Different banks have different rules, the best is to see a mortgage specialist at a bank or a mortgage brokerage, which I will be happy to refer you with confidence.
Do I get a different interest rate as a non-resident?
Most non-residents are eligible for the same interest rate as Canadians, but again I would strongly suggest seeing a mortgage specialist for it since there could be tax implications, exemptions etc. Again, I will be more than happy to provide you with couple of specialist names for tax implications and such.
Do I have to deposit my down payment in a Bank first?
Most financial institutions require that you transfer the money into a Canadian Bank institute for at least 30 days before closing the purchase of the property, they usually would like to trace your source of payment back 90 days also. Thus, the earlier you have your down payment in a Canadian Bank the less the headache you face before and during closing. Usually, one needs to be present during opening a bank account here in Canada.
Do I have to make a deposit to purchase a property?
All Canadians including non-residents are required to put a 2,5-5% deposit after you make an offer to a property, usually within 24 hours of the accepted offer. The money is generally paid to the listing brokerage in certified cheque, bank draft or wire transfer and is held in trust. Again its best to already have your funds here in a Canadian Bank so that the process is easier for you. If you decide to walk away from the property due to failure of inspection or finances, then the fund is refunded back to you, otherwise it is rolled into the down payment of the property during possession and your lawyer will list all those items, expenses and calculations for you before the closing in a formal meeting.
Are there any taxes I have to pay like Toronto 15% for non-resident?
No, here in Ottawa, you are exempt from the non-resident tax (as of 2018).
Can I purchase the property without mortgage?
Yes, you definitely can. I actually had a few of my non-resident clients (on student or visitor visa) who have done that. One will need to transfer the 100% cash money into a Canadian Bank and the money will need to be transferred to your lawyer before closing. The best advice I can give is transfer your money early into a Canadian Bank so that there are no delays. There are also additional costs on closing, like lawyer fees and land transfer tax, etc so have enough money for those that might be amounting to 2 % of the property value. If you wish to see all the closing costs, check out my blog on closing costs.
LEGAL QUESTIONS FOR NON-RESIDENTS
---
How do I find a lawyer to deal with the property purchase?
I have worked with a few lawyers on non-resident buyers, contact me and I will be able to assist and recommend you couple of trusted real estate lawyers for Ottawa.
I live aboard, do I have to come to Canada to sign all my paperwork?
In Ontario electronic signatures are legal, so you will be able to sign with your computer or tablet for electronic signatures. I have helped a few of my clients on providing them with the ability to do so.
Do I need to be in Canada to buy the property?
You do not have to be in Canada to purchase the property, I can provide you with whatsapp, Face Time, Skype to other means to walk through the property to help you view it. One thing is you have to be in Canada to open a bank account (check with your preferred financial institution on their requirements) and you may require a Notary to notarize your paperwork for your lawyer. Your lawyer will be able to assist with that.
HOME BUYING PROCESS FOR NON-RESIDENT
---
I want to see some property, where do I start from? Do I have to come to Canada?
Get in touch with me and I will be able to set you up with a MLS search where I can tailor your property needs and wants so that you won't be wasting all your time at searching properties all over. With my help you will receive direct emails to your mailbox on the properties that you are interested in as soon as it goes onto MLS system (Ottawa Real Estate Board house pool system). I can provide you with whatsapp, Face Time, Skype to other means to walk through the property to help you view it. I do personally prefer that my clients are with me here in Ottawa to view the property because at the end, every property has a certain personal feel to them and you as the client has an ultimate decision to make about it.
Do I need an inspector when I purchase?
An inspector is highly recommended to inspect the property that you plan to purchase after the agreement of purchase is signed within the conditions period. I will be more than happy to give recommendations to couple of inspectors to choose from.
Do you find tenants for me if this is an investment property?
Our office list rentals and have property management division, if you are interested in property management after purchase by my company, feel free to contact me. Do note that there are additional costs and procedures to property management.
Utility and Insurance on Property
---
How do I get home insurance for my property?
There are quite a few options to choose for insurance, all insurance companies provide home insurance, and most banks can refer you their insurance divisions. One thing of concern would be if you plan not to reside in the property then it maybe a bit more complicated but an insurance agent should be able to help you with it.
How do I hook up my utilities
In Ottawa, we have Enbridge that provides gas. Hydro Ottawa for Electricity and City of Ottawa provides water and sewer needs.
For TV, phone and internet you have main providers such as Rogers, Bell and others provide these services.
What are my next steps?
---
It is not hugely different than buying a property as a resident/citizen therefore you can go through my other blog posts and get yourself familiarized with our system here and your next steps are to get in touch with me and see how I can help you with your future home purchase either here in Ottawa or by referring you to a trusted agent in Canada from east to west (coast to coast). I wish you and your loved ones peace and ease in your decisions to make a new home…
Was This Post Helpful: