Reverse Samsung Washer or Dryer Door
Here is a simple DIY reversing of Samsung washer/dryer door. Over the weekend, we wanted to move our Samsung dryer door from opening to the right and make it swing to the left. The image below shows, how it used to open, and all the screws that we had to remove, in total, there are 8 screws to remove, 2 of them are hidden. We simply used our Black and Decker drill to complete the job, one can also use a Philips screwdriver. Time to complete is around 5 minutes.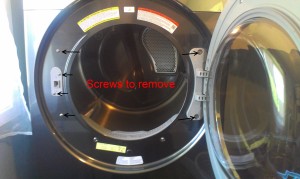 Lets first remove these 2 screws that lock the door.
Once removed, store the screws in a safe place, next, we will remove the top two screws.
Now we will tackle the door and remove the lower screw first and then the upper screw second, hold on to your door when you are doing this, just in case it may fall down, although there is an extra screw that is holding it at the back in a keyhole, but still its better to be safe than sorry.
You will also find 2 hidden screws that one has to remove after you unfasten the door, they are hidden behind the hinges.
Lets install the door lock back on the other side. We will install back the 4 screws the way we took them off, just on the opposite side.
We now need to swap the door screw to the other side, so that it fits into the key hole, remember not to over tighten it, the screw needs to be out just a bit.
Next we will put back the door and slide the screw into the keyhole, we will first fasten the top screw, and not over tighten it, and fasten the bottom one, next we will go over both top and bottom ones and tighten them.
And voila, we have now installed the dryer door on the other side, try to close it and see if it fits and do any adjustments it may require.
Here is also an additional video instruction provided by Samsung.
Was This Post Helpful: